Synco Audio Mic-M1 On-Camera Shotgun Microphone with Shock Mount
SYNCO Audio Mic-M1 On-Camera Microphone Mini, light but professional, it is an on-camera microphone adopting cardioid electret condenser and mic suspension design with better sound pick-up effect.
Synco Audio Mic-M1 Overview
High-class Cardioid Condenser Capsule
SYNCO Audio Mic-M1 microphone, uses a 22 cardioid condenser capsule which achieves higher sensitivity and superior sound quality. It is ideal for recording human voice, like interview, dialog, vlog with minimized background noises and more audio details.
One Mic for Various Devices
Cynco Audio Mic-M1 Microphone offers two kinds of connection cable, a 3.5mm TRS camera cable for camera series (DSLR, camera, camcorder, audio recorder, etc) and a 3.5mm TRRS phone cable for phone series (smartphone, tablet, Mac, PC). A cold shoe mount under the shock mount is used for installing the mic to DSLRs, mirrorless cameras, etc. Different devices can find their way to match the microphone.
Professional Shockproof Design
The unique mic suspension design for Mic-M1 makes the microphone suspended in other components with a piece of soft rubber. Combining with the shock mount, unwanted vibrations would be greatly reduced and the recording would be more steady. Filming movements will hardly affect the stable audio recording.
10dB Noise Reduction with Windshield
Mic-M1 features a specialized windshield that protects the sound recording from the interference by environment noises, and improve the audio quality of your videos. Noises under 10dB can be suppressed with the windshield. It is well suitable for ourdoor filming.
No Battery Required
Supplied with the camera power, Mic-M1 requires no battery, which makes it mini and light, free from the hassle of charging and current interference. Plug and play design lessen your work and save your set-up time.
Durable Metal Housing
Protected by metal housing, Mic-M1 has strong anti-interference ability, avoiding interference from usual radio frequency. Metal housing contributes to better recording effect and longer life span.
Tiny But Professional Mic
With the dimension of 22 x 81mm, SYNCO Mic-M1 is a compact cardioid condenser microphone weighing only 26g. It aims to assist your camera and phone for professional video recording.
Camera/Phone Series Compatibility
A 3.5mm TRS and a TRRS audio cable are ready for various devices, DSLR, camera, camcorder, audio recorder, smartphone, tablet, Mac, PC. One microphone adapts basically all the recording devices you have.
Included Shock Mount & Windshield
Shock mount mitigates unwanted shocks and vibrations. Windshield can minimize air interference during recording, and achieves 10dB noise reduction. With these accessories, you will make your recording to broadcasting level.
Equipped with Cold Shoe Mount
There is a cold shoe mount under the shock mount, used for installing the mic to DSLRs, mirrorless cameras, etc. Combining with the camera, Mic-M1 microphone captures sound without any distortion.
Rugged Metal Construction
Metal-made body protects the sound recording from the interference by usual radio frequency. Rugged metal construction enables it to be used everywhere even in hostile environment.
Cardioid Condenser Capsule
Adopting cardioid condenser capsule, Mic-M1 is more sensitive to sound details and delivers better audio focusing the sound in front of the microphone.
Wide Range of Recording
Mic-M1 is a shotgun microphone that can capture sound in a wide range. It gets the best reocording effect within 2 meters, satisfying daily recording needs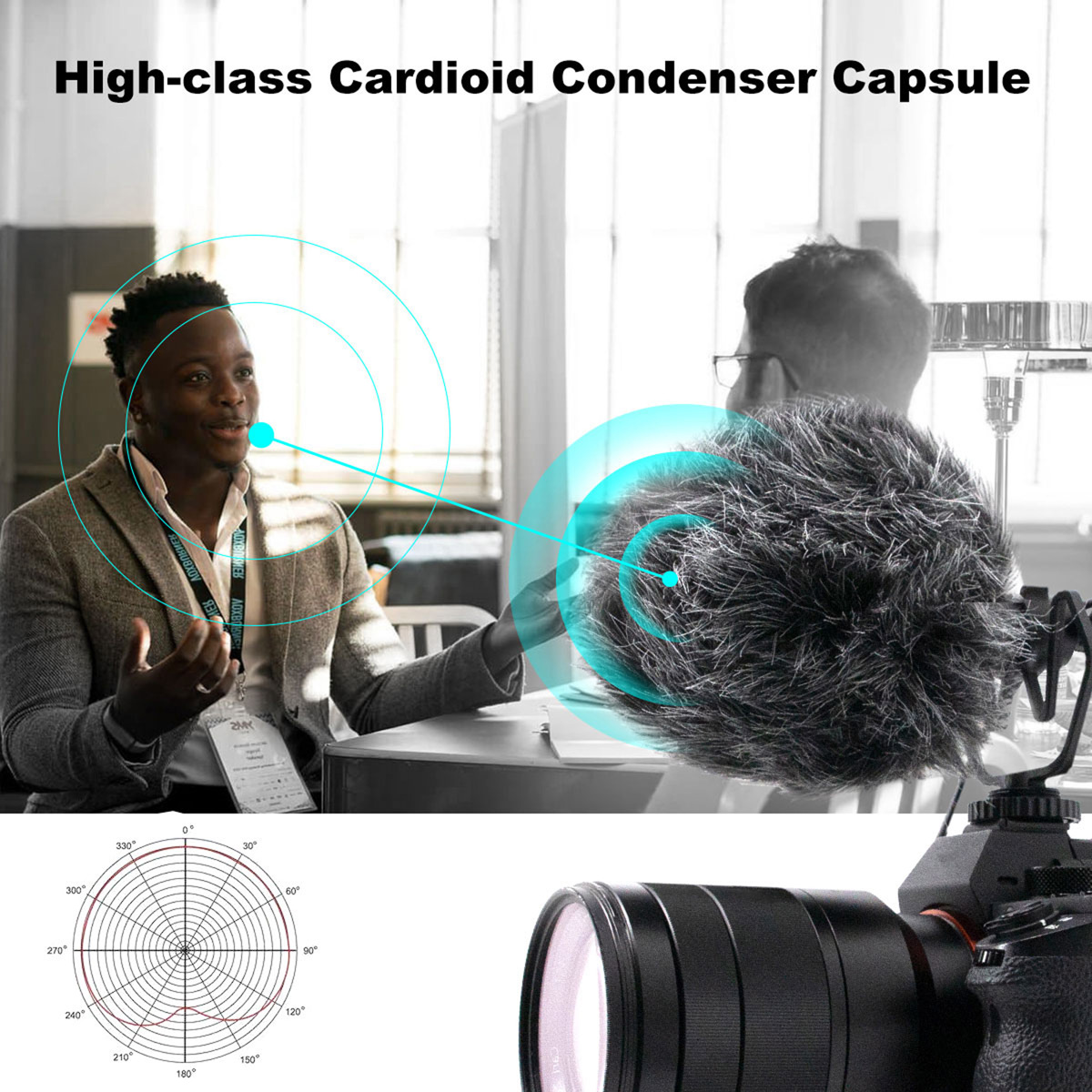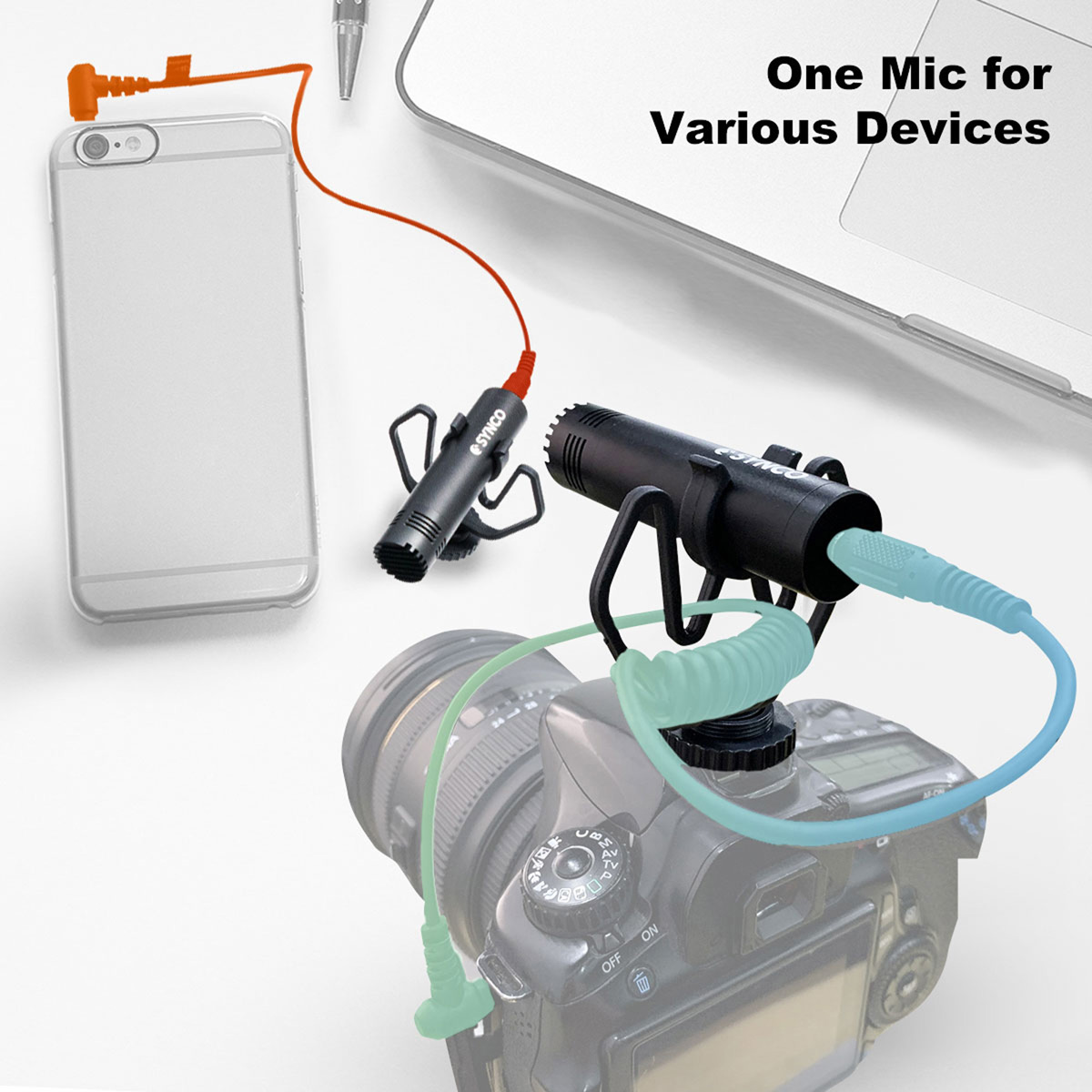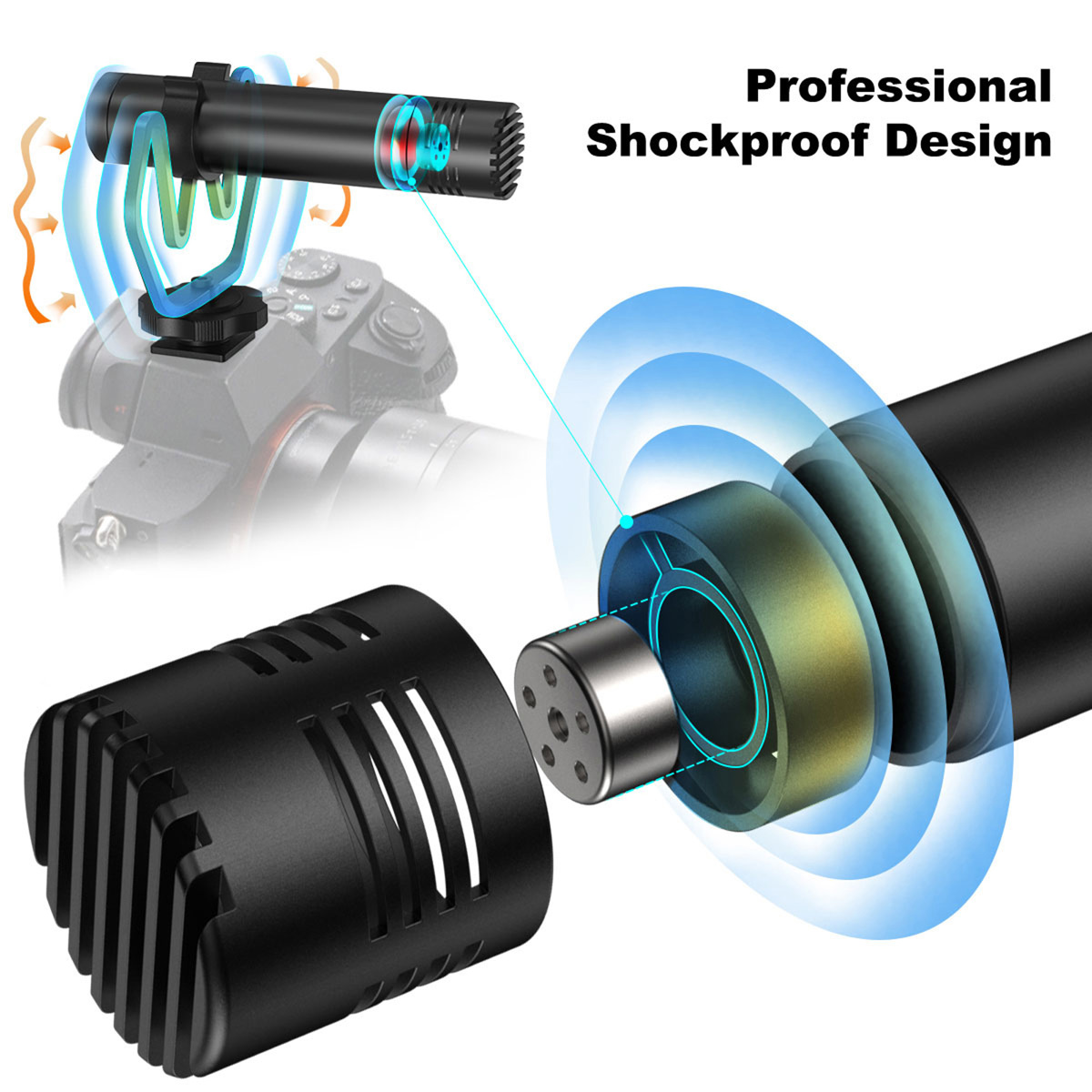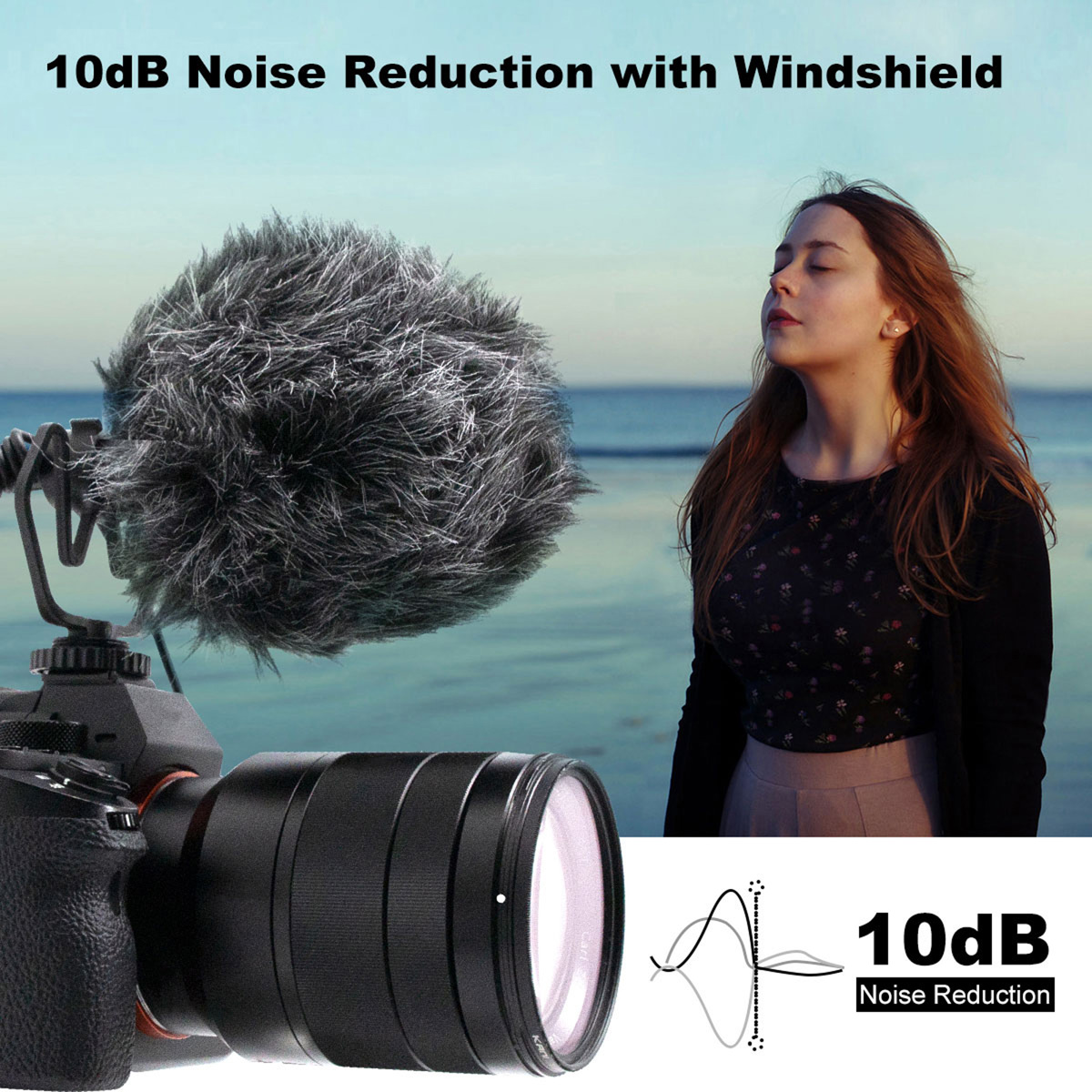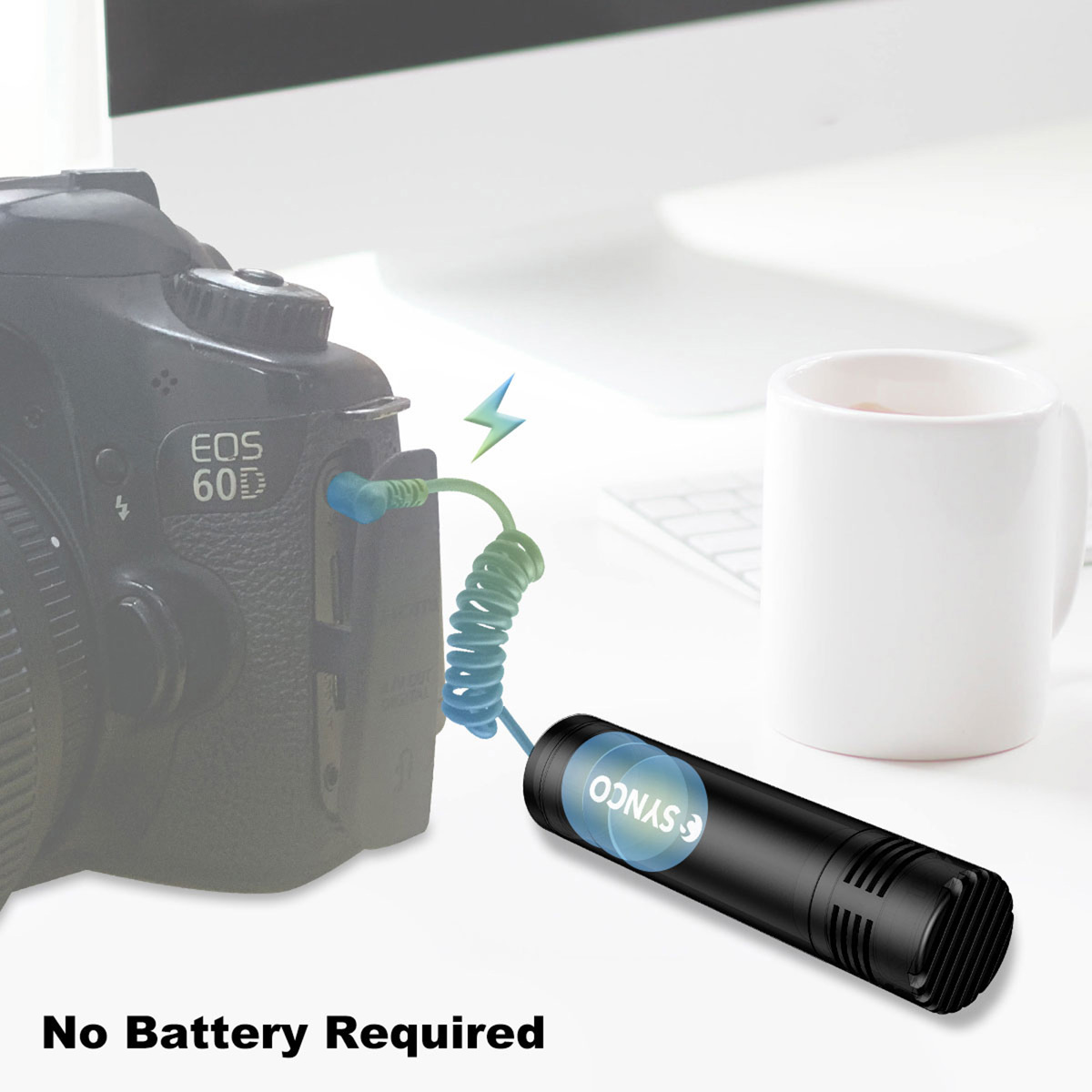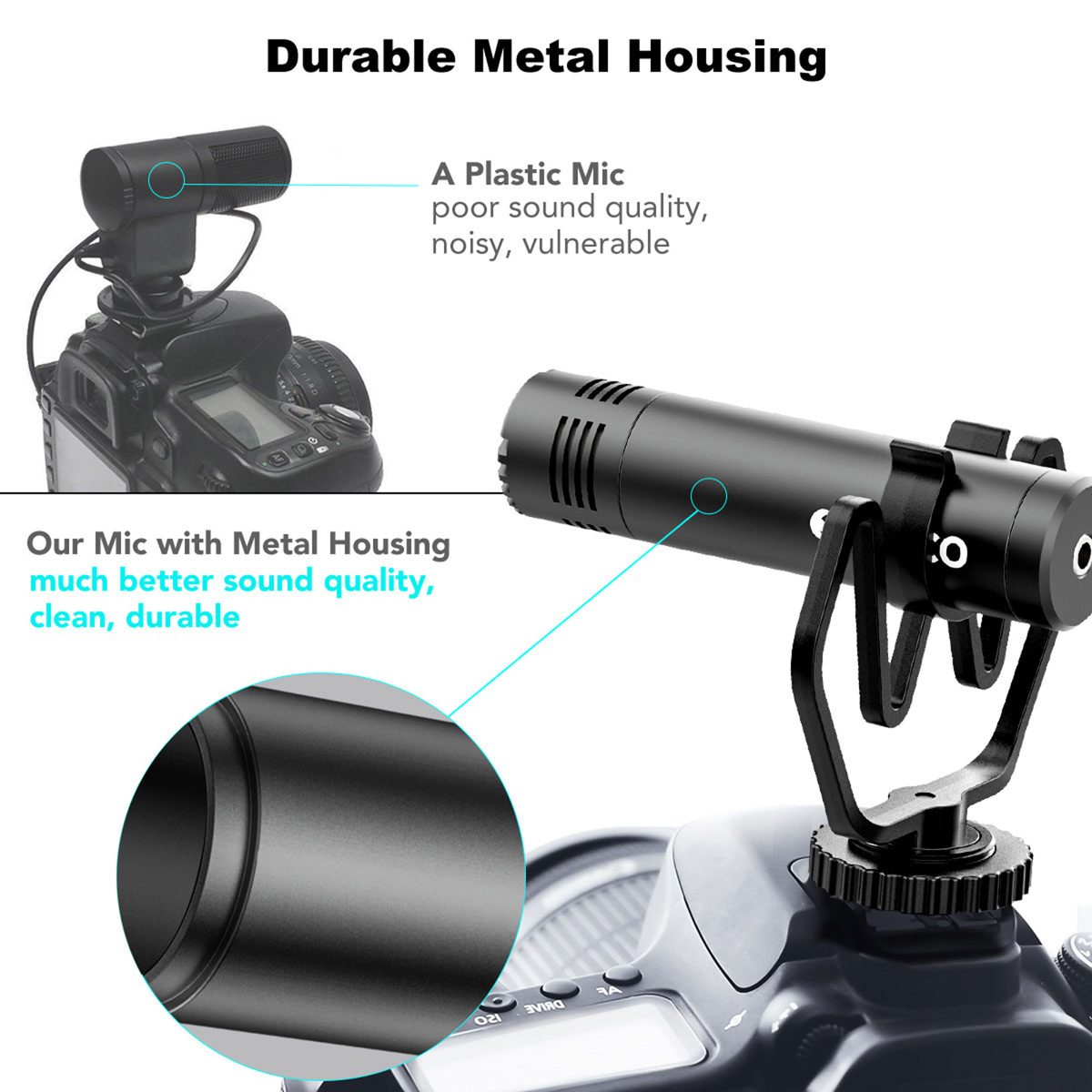 Synco Audio Mic-M1 Features
High-class Cardioid Condenser Capsule
One Mic for Various Devices
Professional Shockproof Design
10dB Noise Reduction with Windshield
No Battery Required
Durable Metal Housing
Tiny But Professional Mic
Camera/Phone Series Compatibility
Included Shock Mount & Windshield
Equipped with Cold Shoe Mount
Rugged Metal Construction
Cardioid Condenser Capsule
Wide Range of Recording
Synco Audio Mic-M1 Product Support