Synco Audio Mic-E10 Cardioid Vocals Musical Instrument Microphone
Synco Audio Mic-E10 Broad and balanced frequency response makes it fit for various sound recording, so it could be applied to speech, performance, musical instrument, interview, live streaming and more. With 180Hz 12dB inbuilt low cut, it delivers elegant sound quality.
Synco Audio Mic-E10 Overview
Upgraded Cardioid Condenser Mic
Synco Audio Mic-E10 as a cardioid condenser microphone, SYNCO Mic-E10 Instrument MIC is most sensitive to the sound from straight ahead, effectively reducing the sound feedback and undesired peripheral noises. You can get pretty good results even recording in environments with winds, traffic, noises.
High-quality Sound, Ideal Signal Transmission
Adopting 50Hz-18000Hz broad and balanced frequency response, Mic-E10 instrument microphone is ideal for recording wide range of sound, including vocals, acoustic, musical instruments, singing voices in great details. One SYNCO microphone helps you pick up sound in interview, speech, musical performance, and many live sound applications.
Super Anti-interference Design
Bulit-in exquisite aluminum alloy housing and inbuilt 180Hz 12dB low cut filter, E10 audio musical microphone rolls off unwanted rumble, plosives from vocal and part of noises at 180Hz, minimizing the room noise and peripheral noise such as wind, handling noise. Intelligent noise reduction improves recording clarity and quality.
Intended for Widely Use
SYNCO Instrument Microphone is designed with a 3-pin XLRM connector, which is universal for most audio devices including audio mixer, recorder, camcorder, camera(need XLRM to 3.5mm cable). XLR has a locking mechanism to avoid unwanted disconnects, ensuring the signal can be transmitted fast and smoothly.
Support 1.5V AA Battery/48V Phantom Power
Mic-E10 Musical Instrument mic supports 1.5V AA battery and 48V phantom power, 1.5V battery for DSLR, smartphone and computer while the latter for audio mixer or recorder. 1.5V battery is powerful enough to drive the SYNCO microphone when 48V phantom power is not available, especially for outdoor application.
Mic Mount for Extended Application
A H-25 microphone mount is provided for attaching accessories like boom pole, mic stand to firmly hold your E10 microphone in different positions, such as pointing at the drum in performance. It fits for accessories with 5/8″ or 3/8″ thread.
Cardioid Polar Pattern
Applying cardioid electret condenser, SYNCO Mic-E10 microphone minimizes pickup of sounds from the sides and rear and focuses on the audio pickup in front of the mic. It improves the clarity and quality of desired sound source.
Various Devices Applicable
With a XLRM connector on the mic's tail, Mic-E10 also offers a XLRM to 3.5mm cable (3 meters). It is applicable to audio mixer, recorder, camcorder and camera, etc.
Anti-interference External Design
Exquisite aluminum alloy housing contributes to strong anti-interference ability, avoiding radio-frequency interference from household appliances. It suits for outdoor and indoor application, such as interview, live broadcast and documentary filming.
Dual Power Supply Way
1.5V AA battery and 48V phantom power are available in Mic-E10. You can freely choose the power supply way based on your device and convenience.
Easy to Use with ON/OFF Switch
There is a ON/OFF switch on the main body of Mic-E10. When recording starts, slide to the ON side, while recording stops, slide to the OFF side. You can freely control your recording.
Universal Mic Mount
The Mic-E10 is supplied with a H-25 microphone mount for attaching accessories like boompole, mic stand for more applications. Accessory with 5/8″ or 3/8″ screw are accessible.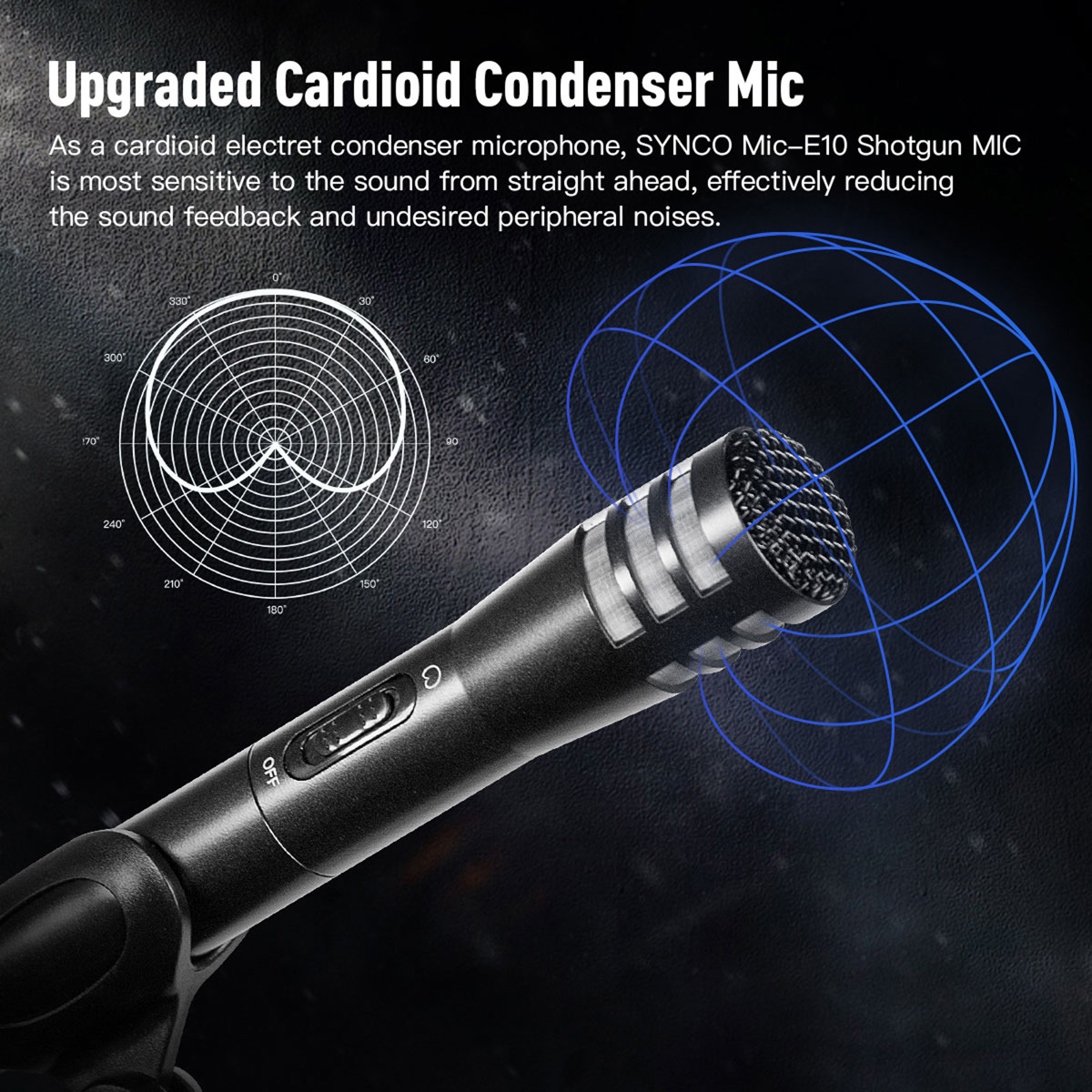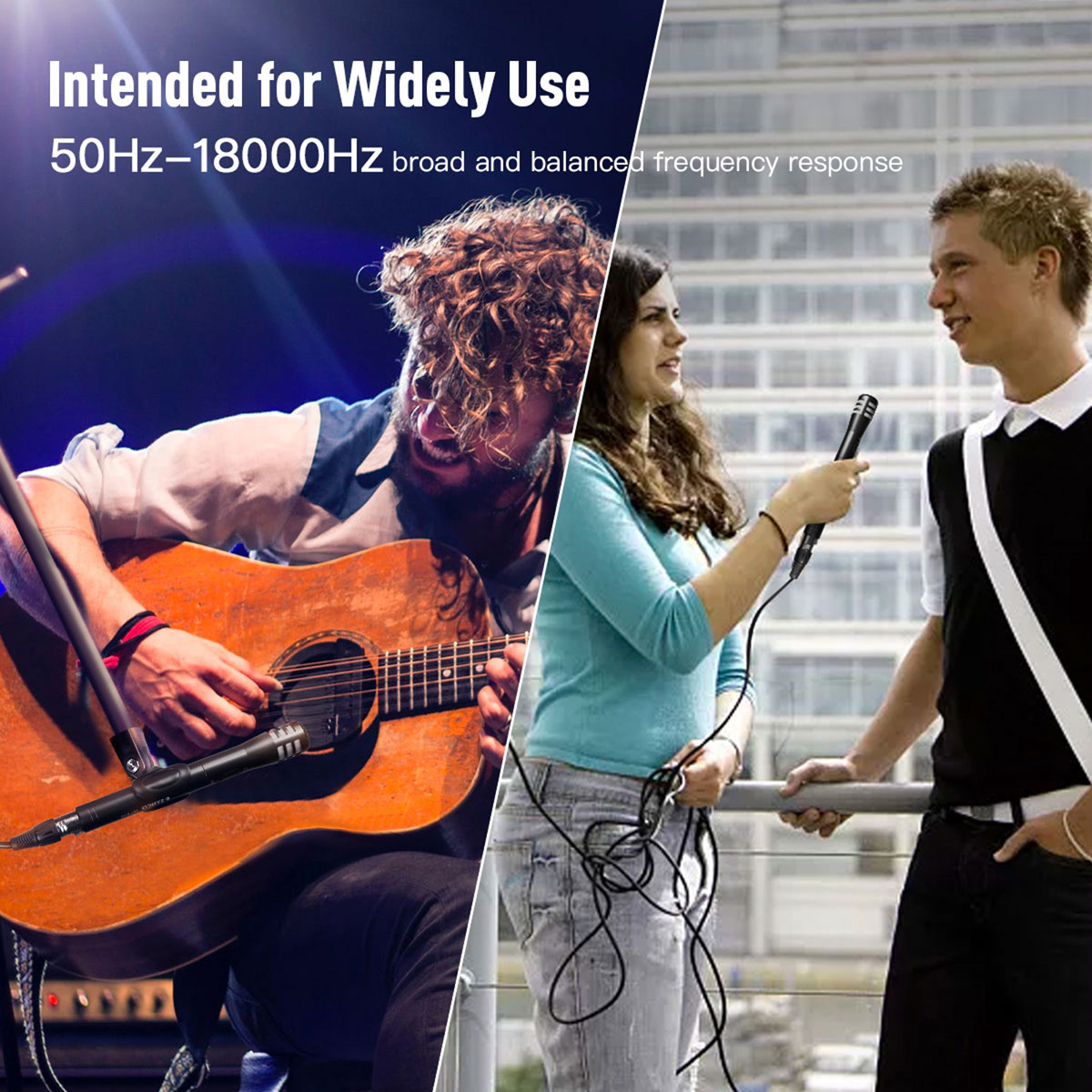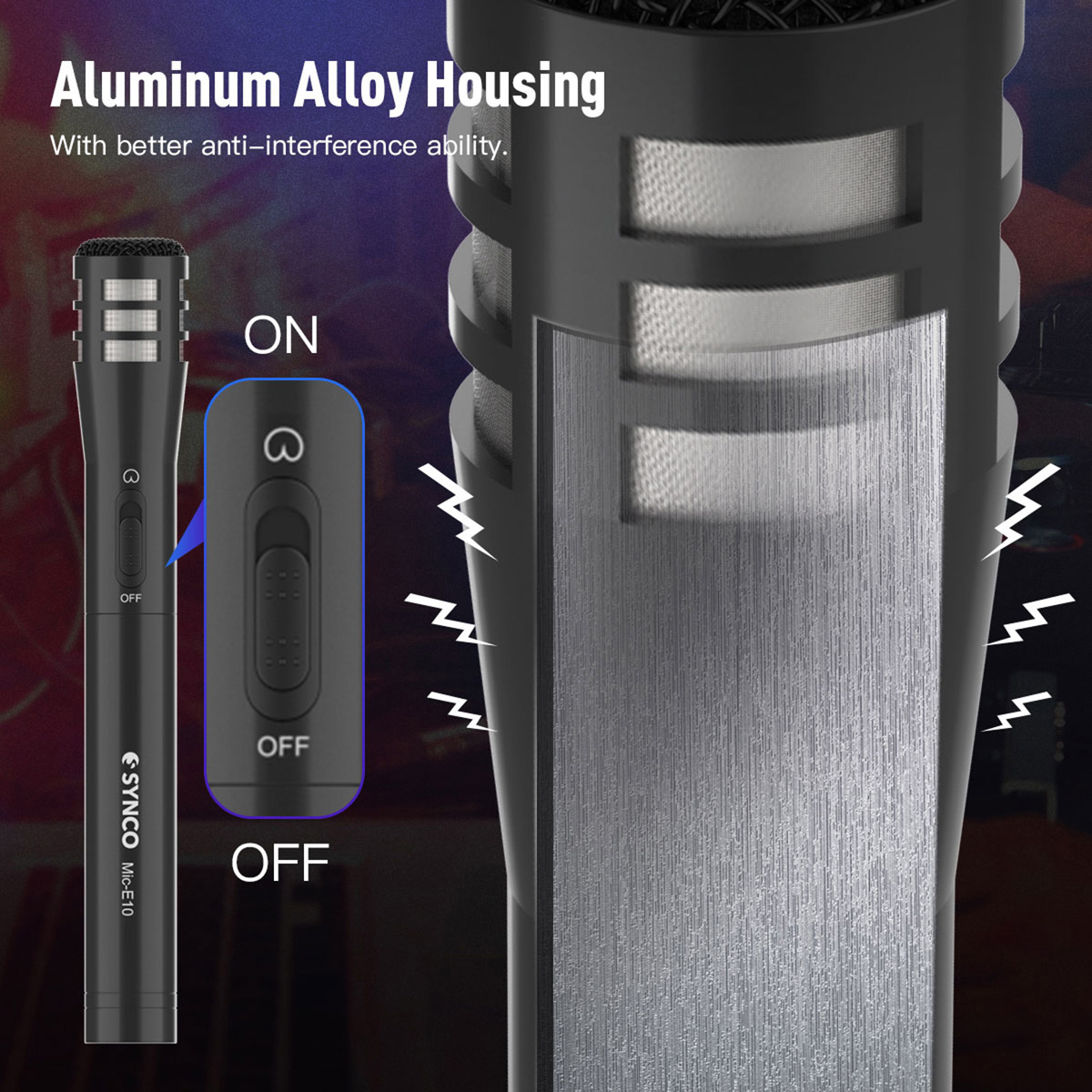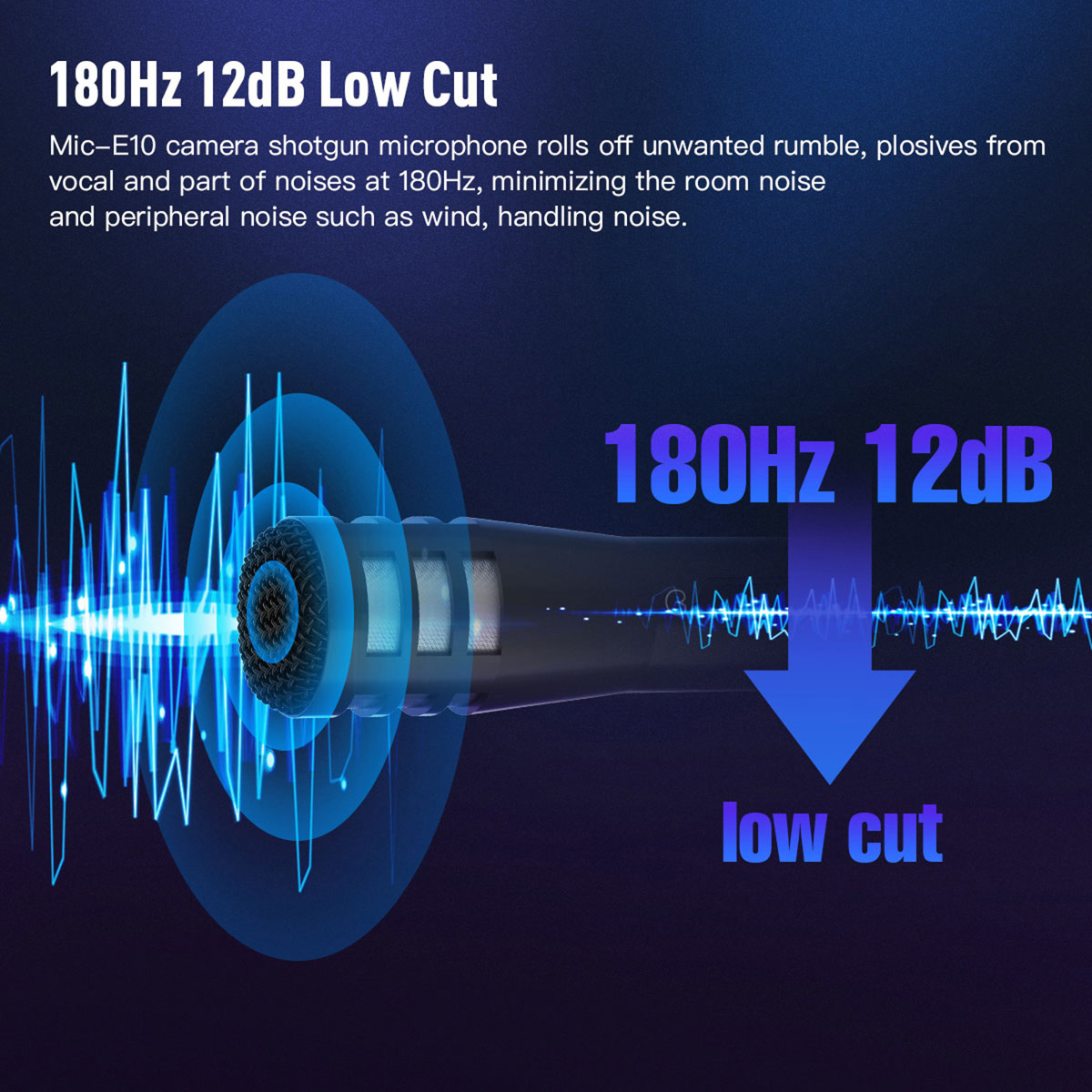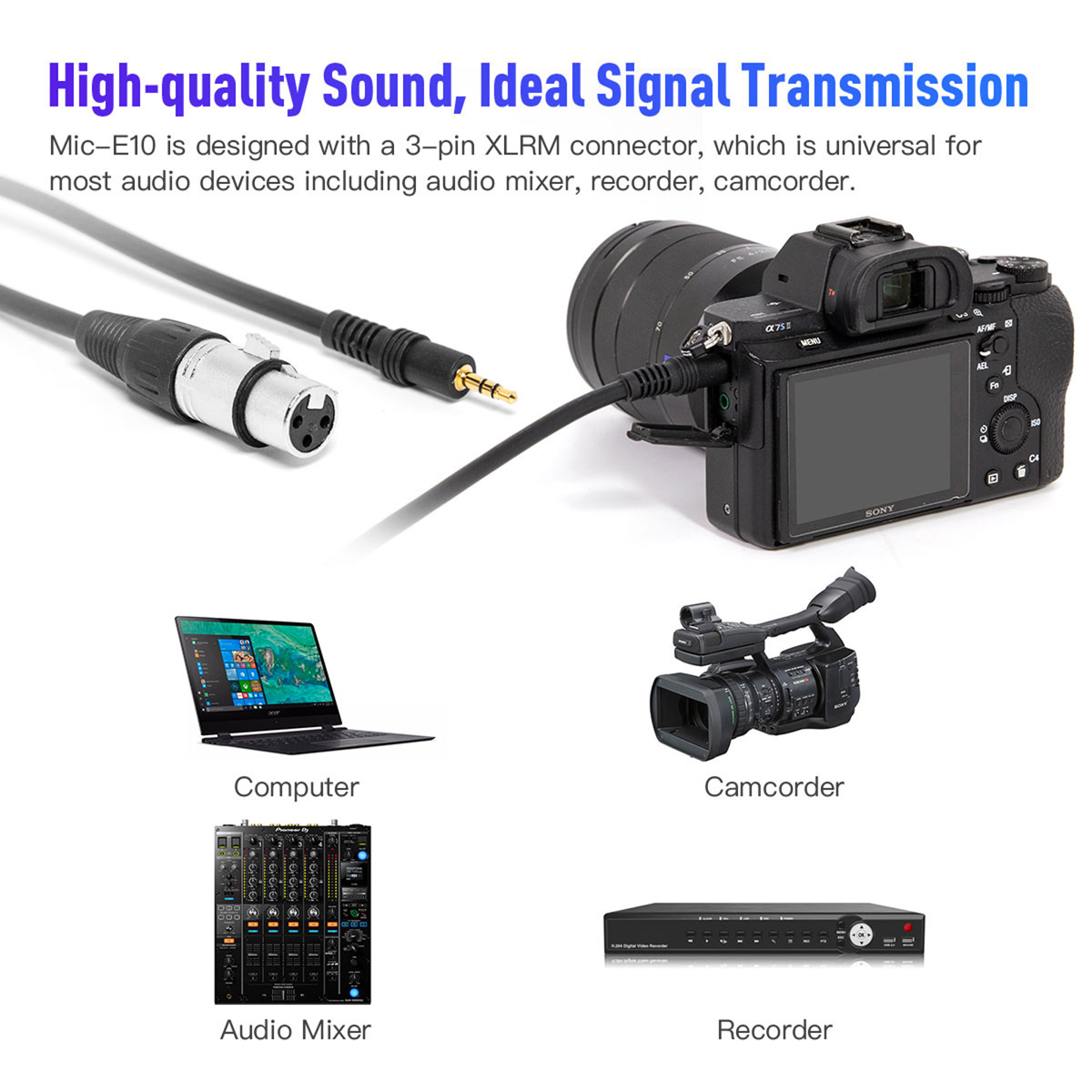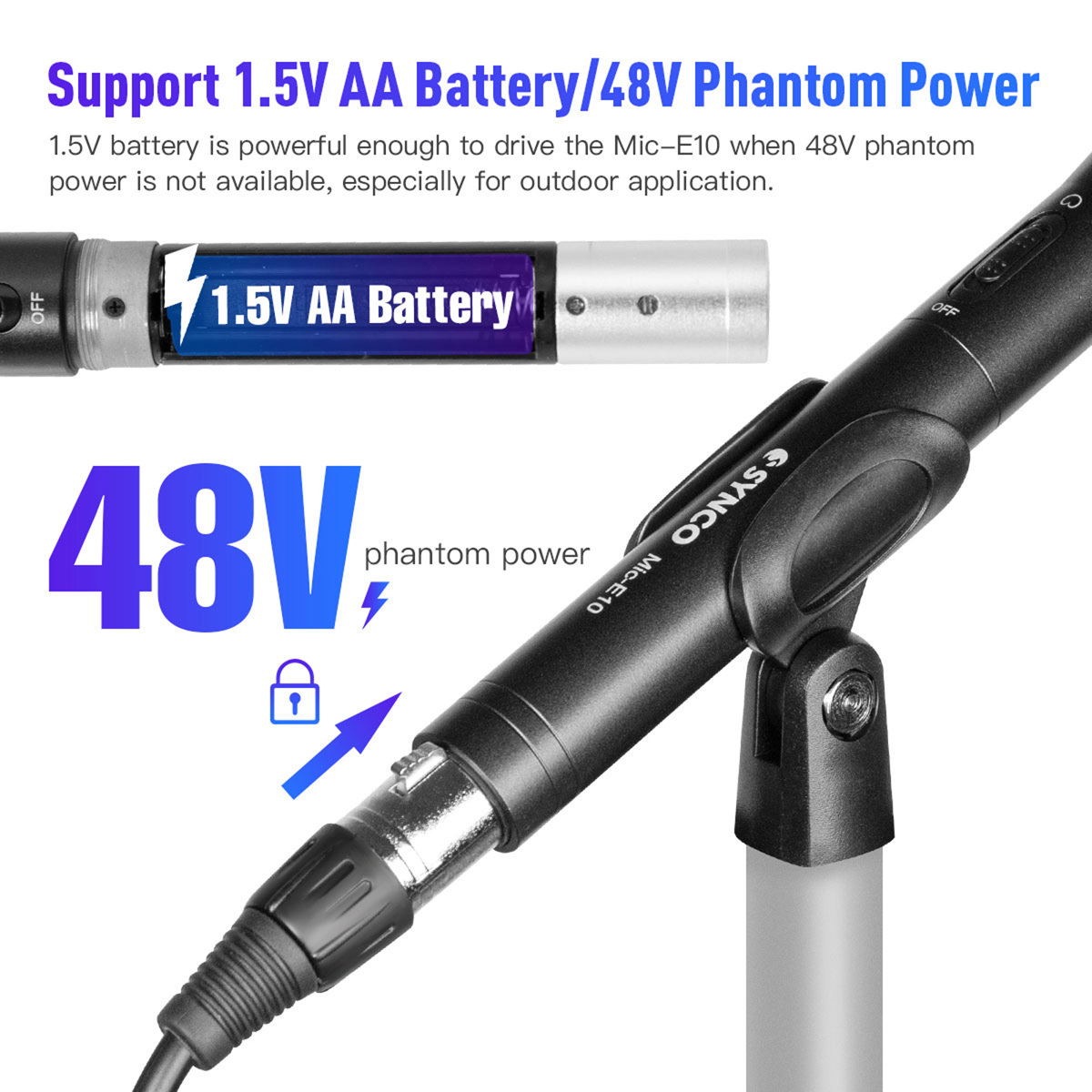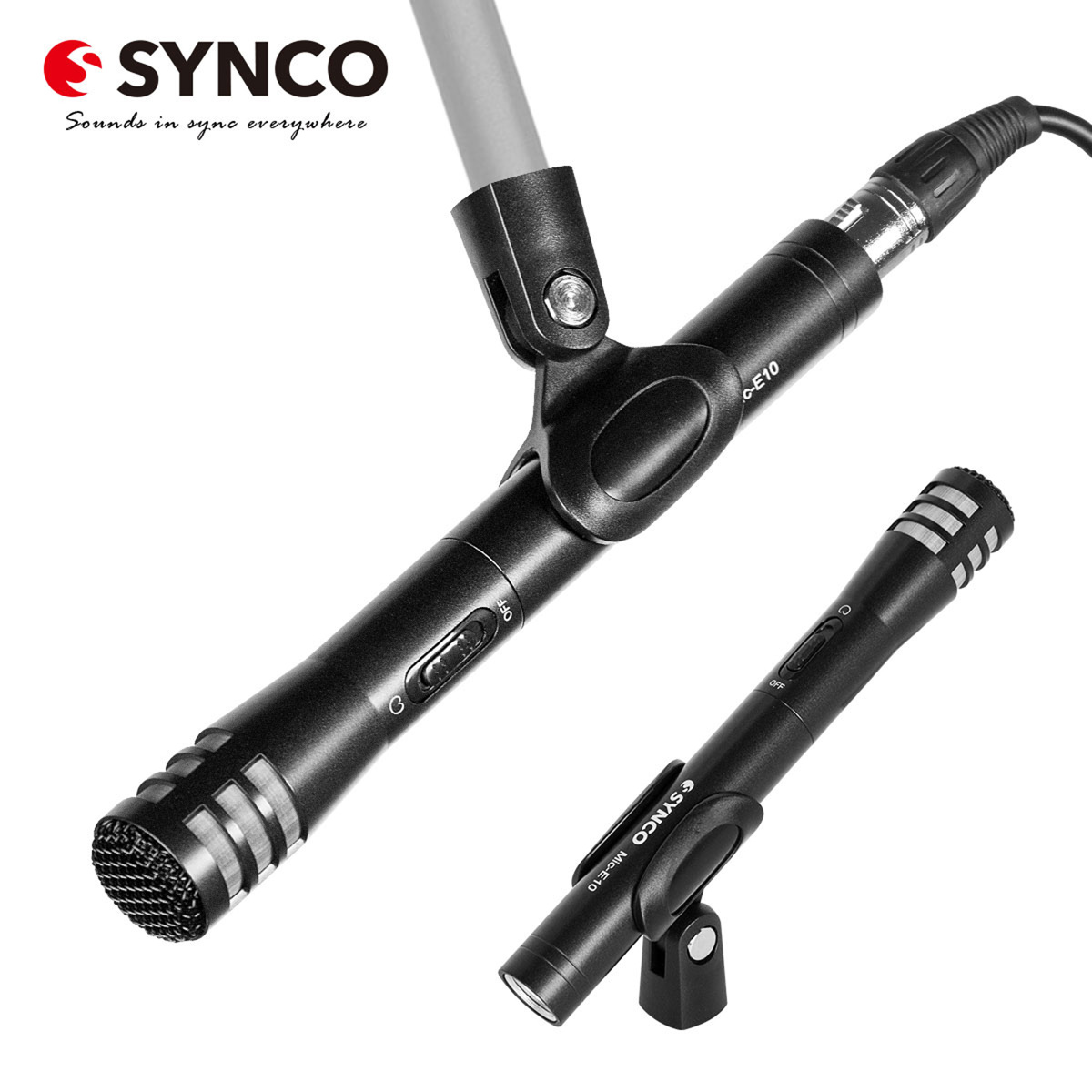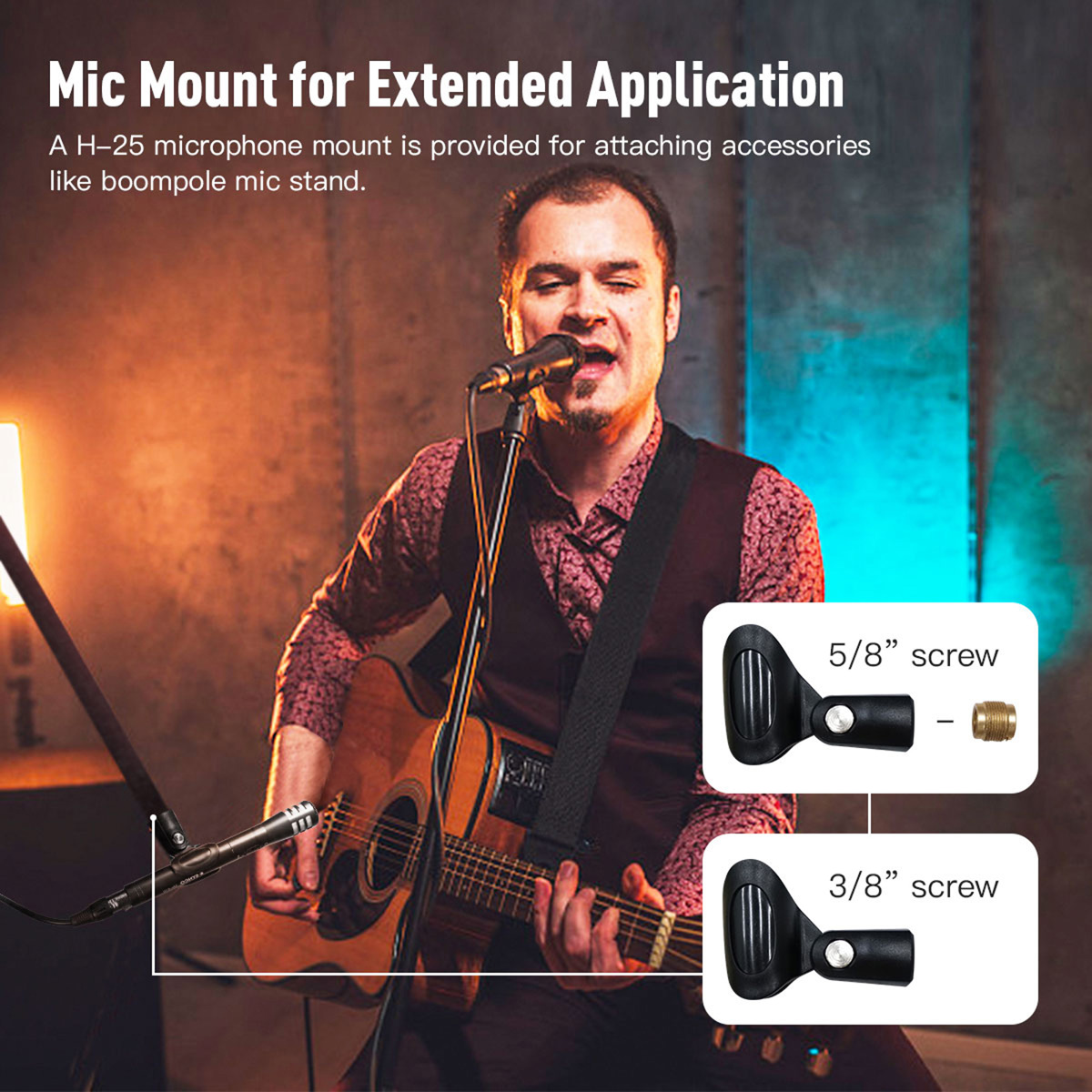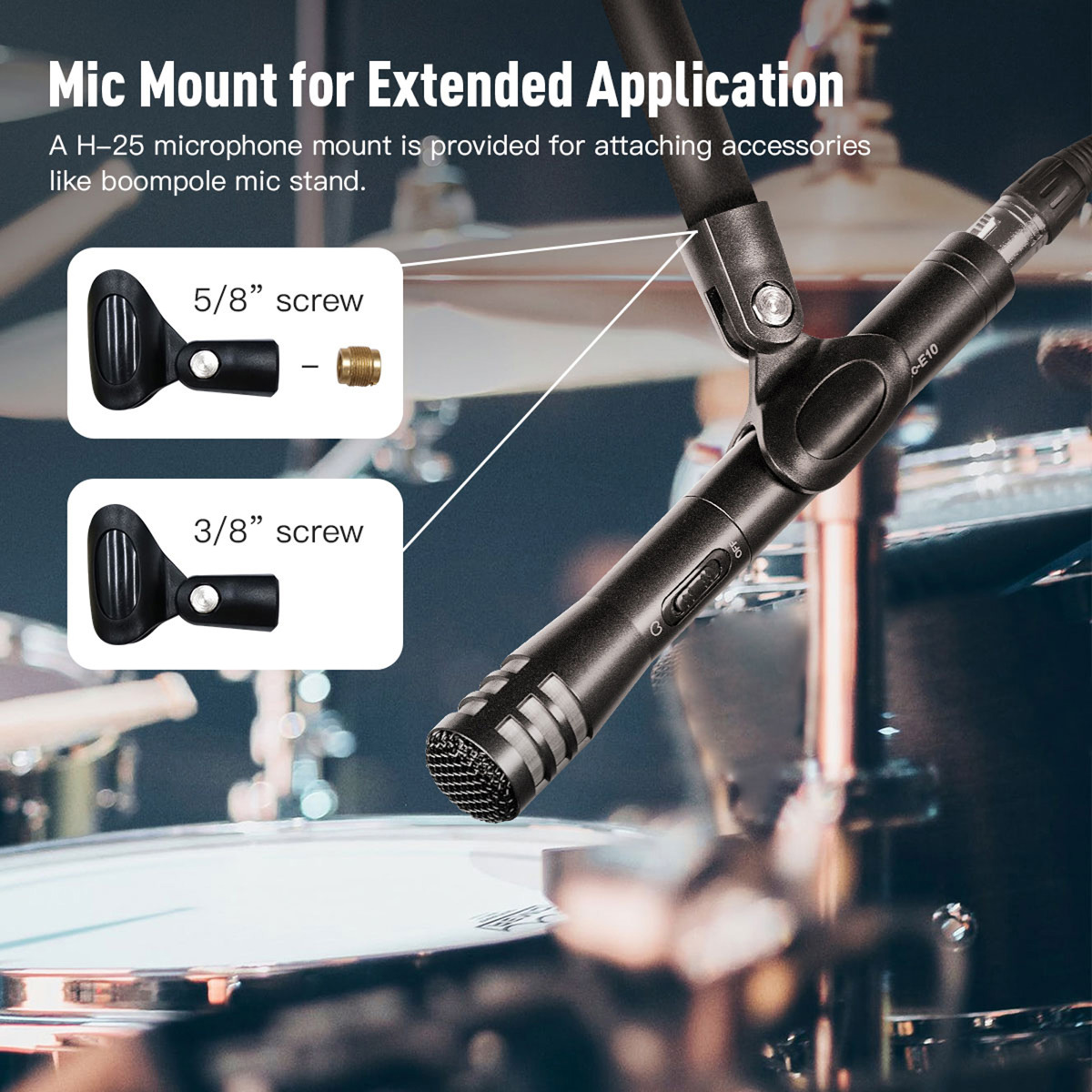 Synco Audio Mic-E10 Features
Upgraded Cardioid Condenser Mic
High-quality Sound, Ideal Signal Transmission
Super Anti-interference Design
Intended for Widely Use
Support 1.5V AA Battery/48V Phantom Power
Mic Mount for Extended Application
Various Devices Applicable
Anti-interference External Design
Dual Power Supply Way
Easy to Use with ON/OFF Switch
Universal Mic Mount
Synco Audio Mic-E10 Product Support