Magnificently Modular!
Zoom's H6 Handy Recorder portable recording system gives you everything you need to capture quality audio anywhere. Four XLR/TRS combo inputs complete with onboard microphone preamps provide a solid basis for hooking up studio mics or taking feeds from line-level equipment. On top of that, the H6 recorder features both an XY and a Mid-side mic module, which you can swap out with additional aftermarket input modules. Add to that its impressive battery life and professional 24-bit/96kHz recording quality, and it's no wonder the Zoom H6 Handy Recorder is making waves!
Super-flexible I/O
All of the input and output options you need
One of the things that make the Zoom H6 Handy Recorder such a field-recording workhorse is its extensive I/O, which puts its functionality comfortably on par with the high-end dedicated recorders used by film and television professionals. On the body of the H6 alone, you'll find four combo jacks, each with its own volume dial and switchable -20dB pad. These inputs let you connect anything from phantom-powered condenser microphones to extremely hot line-level sources. Cooler still is the H6's modular expansion port, which lets you connect microphones such as the included XY or Mid-side capsules. Read all about them in our Zoom Capsule Buying Guide. As for monitoring, you get both a line and a headphone out on the H6, plus a built-in speaker for mono playback.
ZoomH6 I/O at a Glance:
Four onboard combo jacks provide microphone- and line-level input on XLR or 1/4″ connections
Independent volume controls and switchable -20dB pads provide hands-on control over your levels
Up to two additional inputs available via swappable capsules (check out our Zoom Capsule Buying Guide)
Headphone and line-level outputs provide stereo sound for monitoring and playback
Review your recordings without external gear via the onboard monophonic speaker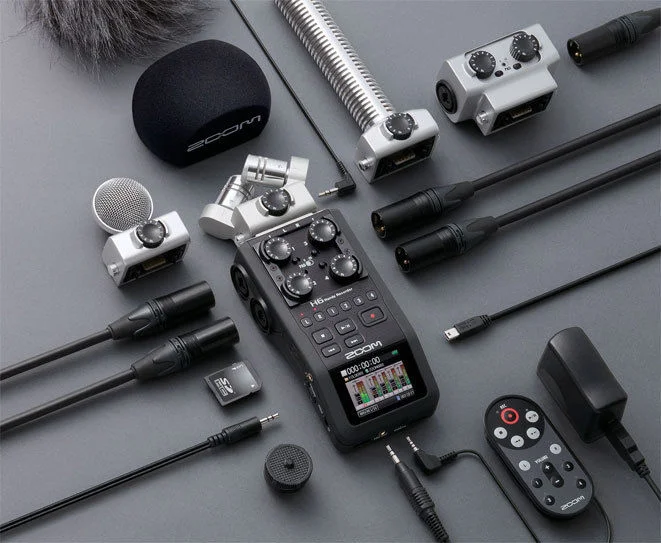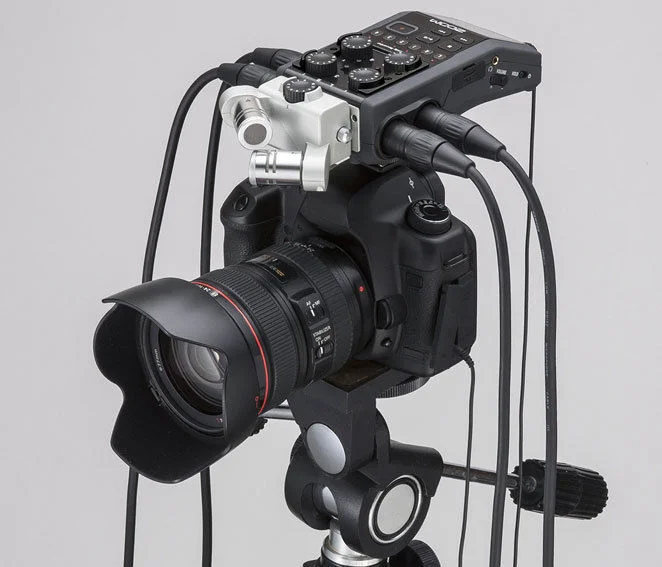 Always Ready to Record
With Pre-record, Backup-record, and Auto-record functions
There's something inherently unpredictable about field recording, which makes it unnervingly easy to miss critical takes. Zoom equipped their H6 Handy Recorder with three powerful recording modes to spare you the stress of a lost or ruined recording opportunity: Pre-record, Backup-record, and Auto-record. With Pre-record, the H6 is continuously buffering the last two seconds of audio, which it includes with every recording. So, even if you hit record late, you're still likely to capture the sound you thought you missed. Along a similar line of thinking is the H6's Backup-record function, which records a separate stereo mix at 12dB down from your current settings. That way, if a sudden audio spike causes your input to clip, you still have a clean backup to work with. Finally, there's Auto-record, which starts recording when the volume passes a certain threshold.
Zoom H6 Recording Options at a Glance:
Pre-record function provides a buffer that keeps you from missing once-in-a-lifetime recordings
Continuous 2-second buffer lets you capture precious moments before you hit record
Backup-record prevents unexpected audio spikes from clipping your inputs and trashing your takes
Simultaneously records a second -12dB stereo track to provide a backup in case your original track distorts
Auto-record function starts recording as soon as the input crosses a certain volume threshold
Professional Processing
Polish your tracks before you ever hit the studio
The dynamics processing onboard the Zoom H6 Handy Recorder serves two important purposes: first, it smooths out your audio for a more polished sound, and second, it keeps your input levels from clipping. In addition to the general compression and limiting settings that work well in most situations, the H6 offers you advanced settings for specific applications. Additional compression settings let you smooth out vocals or punch up drums, and task-oriented limiting modes deal with the consistently high sound-pressure level of live concerts and the sudden spikes of small-room audio production perfectly. What's more, the H6 includes a switchable highpass filter that lets you cut out wind and handling noise and tame plosives. Additionally, you'll find handy tools such as a metronome and multimode tuner onboard the H6, plus pitch shifting and looping capabilities.
Zoom H6 Onboard Processing at a Glance:
Standard compression and limiting provide studio polish and prevent overloading
Advanced compression modes smooth out vocals and punch up drums
Additional limiter settings are ideal for live concert or small-room recording
Highpass (low-cut) filter lets you tame wind and handling noise at the source
Handy metronome and chromatic tuner with guitar and bass settings onboard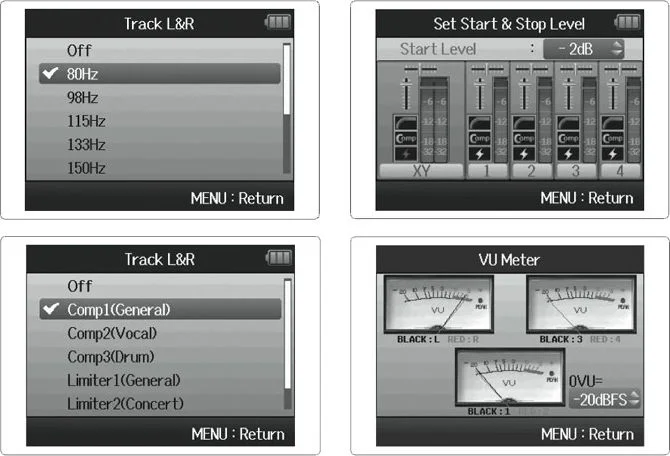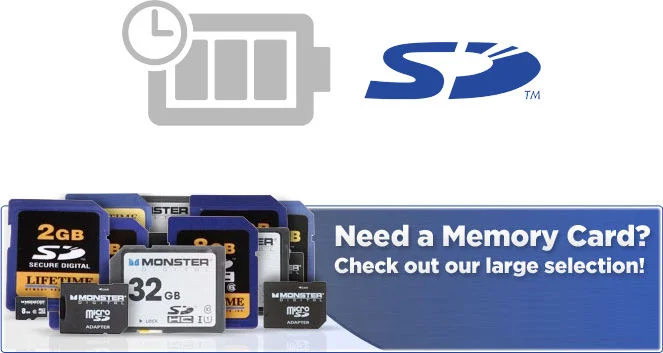 Marathon Recording Machine
Awesome battery life meets massive onboard storage
Running out of space or juice in the middle of a recording is a real drag, which is why many of us here at Sweetwater have come to appreciate the extra steps Zoom made to protect the H6 Handy Recorder from these everyday disasters. For starters, you can record for the better part of a day with your H6 running on just four AA batteries. And these are just your run-of-the-mill AAs, so keeping a spare pack on hand is no big deal. What is a big deal is that you can record directly onto SD, SDHC, and SDXC cards for up to 128GB of recording space. Even if you're recording six tracks at 24-bit/96kHz, you can still track over 20 hours of audio on a 128GB card. Onboard overdubbing capabilities also help you make the most of your recording capacity. And if you're concerned about conserving disk space, then you can always record in stereo MP3 at up to 320kbps.
Zoom H6 Recording Capacity at a Glance:
Records for up to 20 hours on just four alkaline or rechargeable NiMH AA batteries
USB bus power provides excellent alternative power options with or without a computer
Captures audio directly to SD card media up to 128GB for extended tracking sessions
Track professional Broadcast Wave Format (BWF) multitrack audio at up to 24-bit/96kHz
Record high-quality MP3s at up to 320kbps for extremely long recording applications
Versatile USB Audio Interface
From field recorder to 6 x 2 audio interface in a single cable
Not only is the Zoom H6 Handy Recorder an amazing field recorder, but it's also a super-portable USB audio interface too. How cool is that?! We'll tell you. For starters, because it's class compliant, you can plug your H6 into just about any Mac or Windows PC, or even your iPad (via the Apple Camera Connection Kit), and get up to six inputs and two outputs right to your favorite DAW software or recording app. And if you don't already have a DAW of choice, Zoom includes a copy of Steinberg's Cubase LE to get you going. What's more, all of the H6's onboard processing is available even when you use it as an interface, so you can track with compression, limiting, and filtering. There's zero-latency input monitoring to make recording easier, plus a cool Loop Back mode that lets you mix and record a stereo feed over USB along with the H6's inputs.
Zoom H6 USB Interface at a Glance:
Offers full 6-in/2-out USB recording to your Mac, Windows PC, or iPad
Onboard compression, limiting, and filtering available when connected
Direct monitoring provides zero-latency recording capabilities
Loop Back mode lets you record USB and external inputs together
Includes a copy of Steinberg's Cubase LE DAW software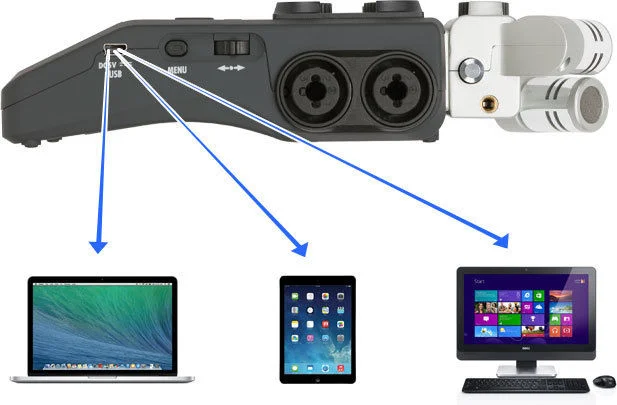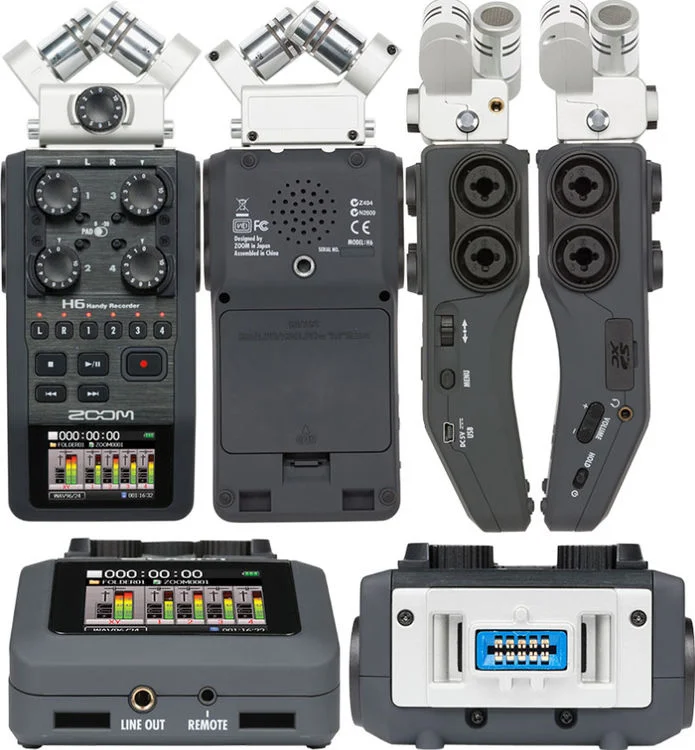 Zoom H6 Handy Recorder Features:
A versatile 6-in/2-out mobile recording system
4 XLR/TRS combination inputs with microphone preamps and phantom power (+12/+24/+48V) accommodate most analog connections
Modular input connection lets you attach onboard microphones and additional input jacks
Gain knobs for each input make setting levels fast and easy
Shockmounted XYH-6 XY stereo microphone module included
Captures audio at up to 24-bit/96kHz professional-grade resolution
Doubles as a handy USB recording interface with your Mac, Windows PC, or iPad (via Apple Camera Connection Kit)
Large LCD display makes navigation and setup extremely easy
Built-in processing includes highpass filtering, compression, limiting, and M-S stereo width decoding
Loop playback, variable playback speed (from 50% to 150%), and variable pitch per track make this an excellent practice tool
Chromatic tuner and metronome built in for added convenience
Records onto SD and SDHC storage media with up to 128GB capacity
Record for up to 20 hours on just 4 AA batteries
Includes operation manual, 2GB SD card, 4 AA batteries, USB cable, foam windscreen, Cubase LE software, and carrying case
Optional shotgun mic, input expansion module, and hot shoe mount accessory also available