Synco Audio WMic-T1 16-Channel UHF Wireless Lavalier Microphone System
SYNCO Audio WMic-T1 is a cost-effective UHF wireless microphone system, including one transmitter and one receiver. It is compatible with smartphones (3.5mm interface), digital/SLR cameras, camcorders, recorders, tablet computers and other devices to help pick up high-fidelity sound; suitable for interview, micro film recording or business demonstration, and other application occasions. Transmitter supports microphone input interface and audio indicators; The receiver is equipped with audio LINE output interface and RF/AF indicators. The effective working distance is about 50 meters in the open areas. Both the transmitter and receiver are compact designed for users to carry around easily.
Synco Audio WMic-T1 Overview
50m Working Range
Synco Audio WMic-T1 thanks to UHF wireless technology, the working range of WMic-T1 is up to 50m in the open areas. Suitable for long distance recording activities.
Battery Warning Light
There is a special light indicating the battery status. When the battery is low, red light will start flickering to warn you in advance. Don't let the power shortage destroy your recording.
Real-time Audio Monitor
With 3.5mm output interface, the recording effect can be monitored in real time. Malfunction or signal noise problems will be detected and fixed quickly, ensuring the best recording quality.
70dB of SNR
Employing advanced DSP technology, WMic-T1 achieves a high SNR of 70dB, which means it can mostly transfer the desired audio signal, while minimizing the unwanted environmental and signal noises.
16 Channels for Your Option
With total 16 channels to choose from, you can just avoid the weak signal channel to get a better recording experience. A channel button could help you adjust the channel quickly.
Various Application
WMic-T1 microphone is an ideal choice for interview, on-site teaching, business presentation and other applications etc.
Compatible with Multiple Devices
WMic-T1 could work with various devices, such as camera, smartphones, camcorders, recorders, personal computers etc. Camera cable and phone cable are also enclosed to meet your different recording needs.
Powered by 2x AA Batteries
Both the receiver and transmitters are powered by two AA batteries. Convenient to replace the batteries and prolong the working time, especially in remote areas.
Compact & Lightweight
WMic-T1 has a super tiny body of 3.78 x 2.36 x 0.74 inches, weighing only 1.9 oz. Portable for outdoor audio recording and video shooting. There are Channel and Volume buttons for easy operate.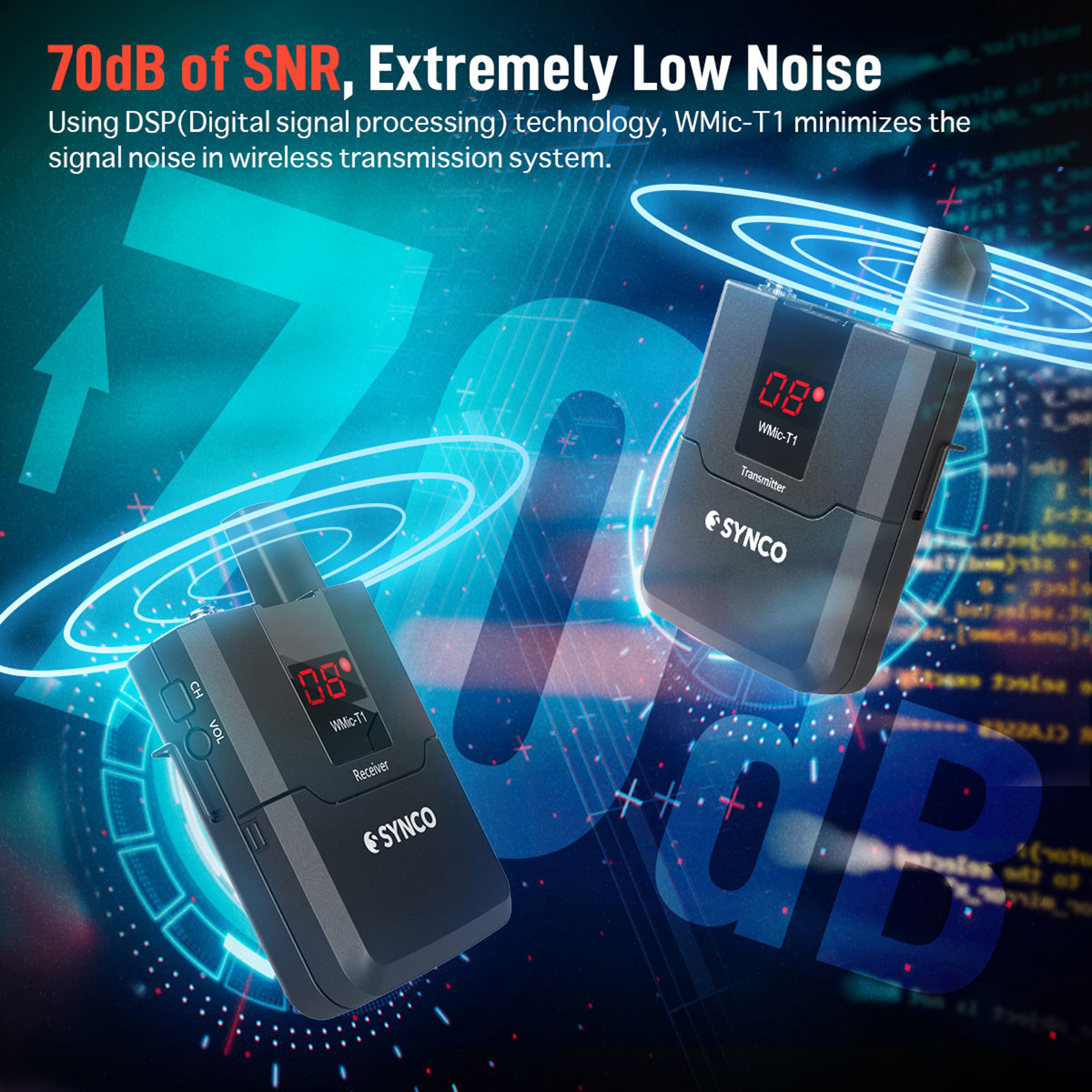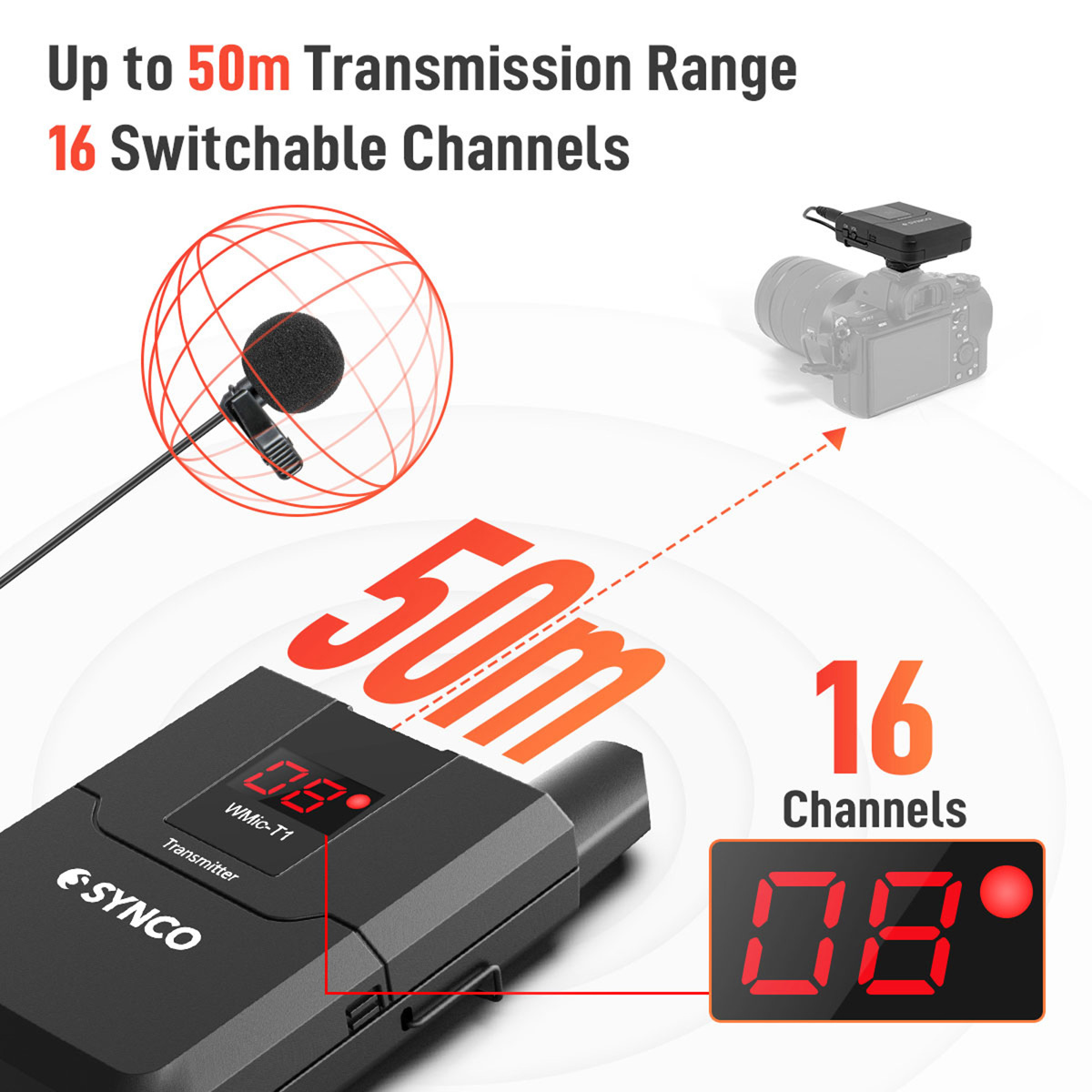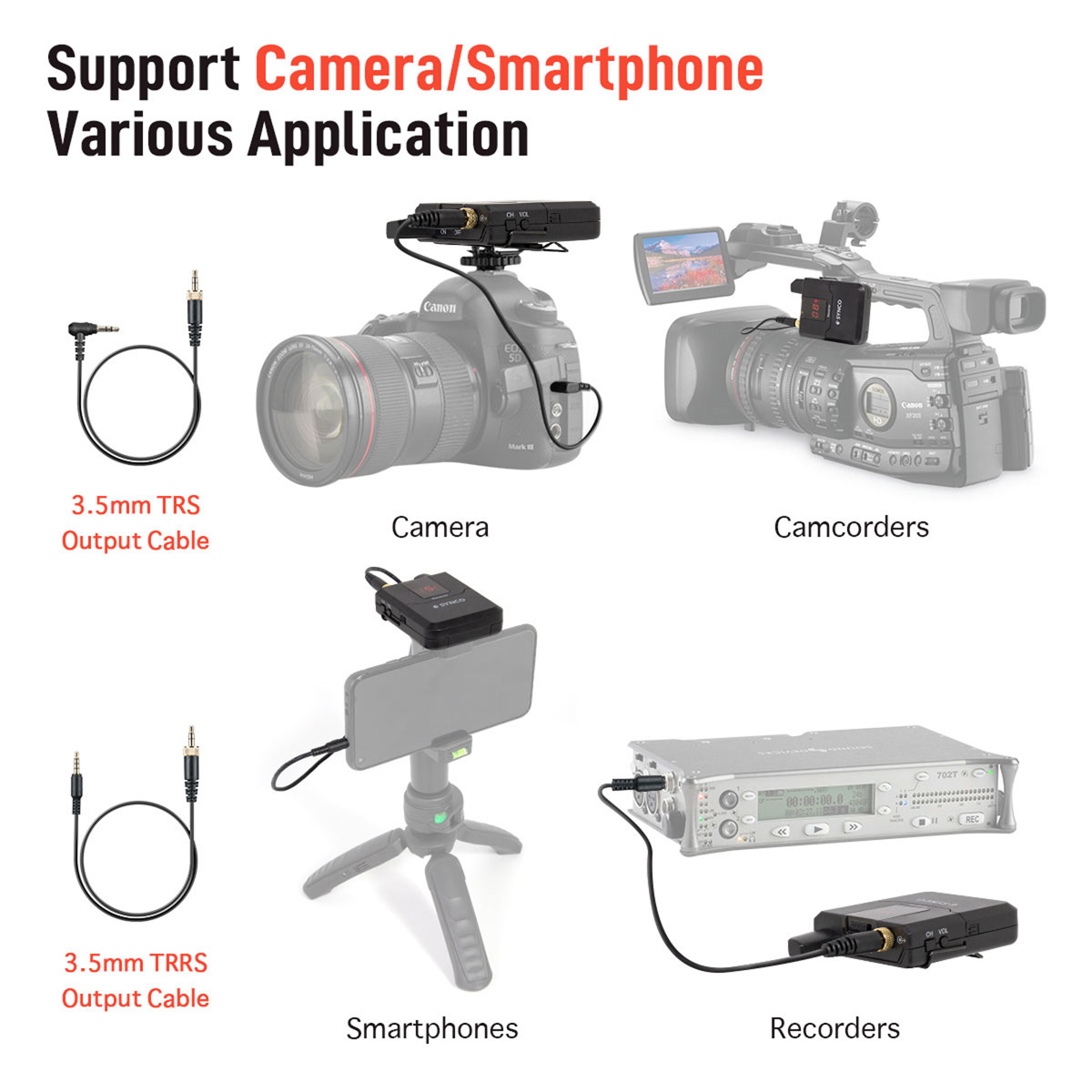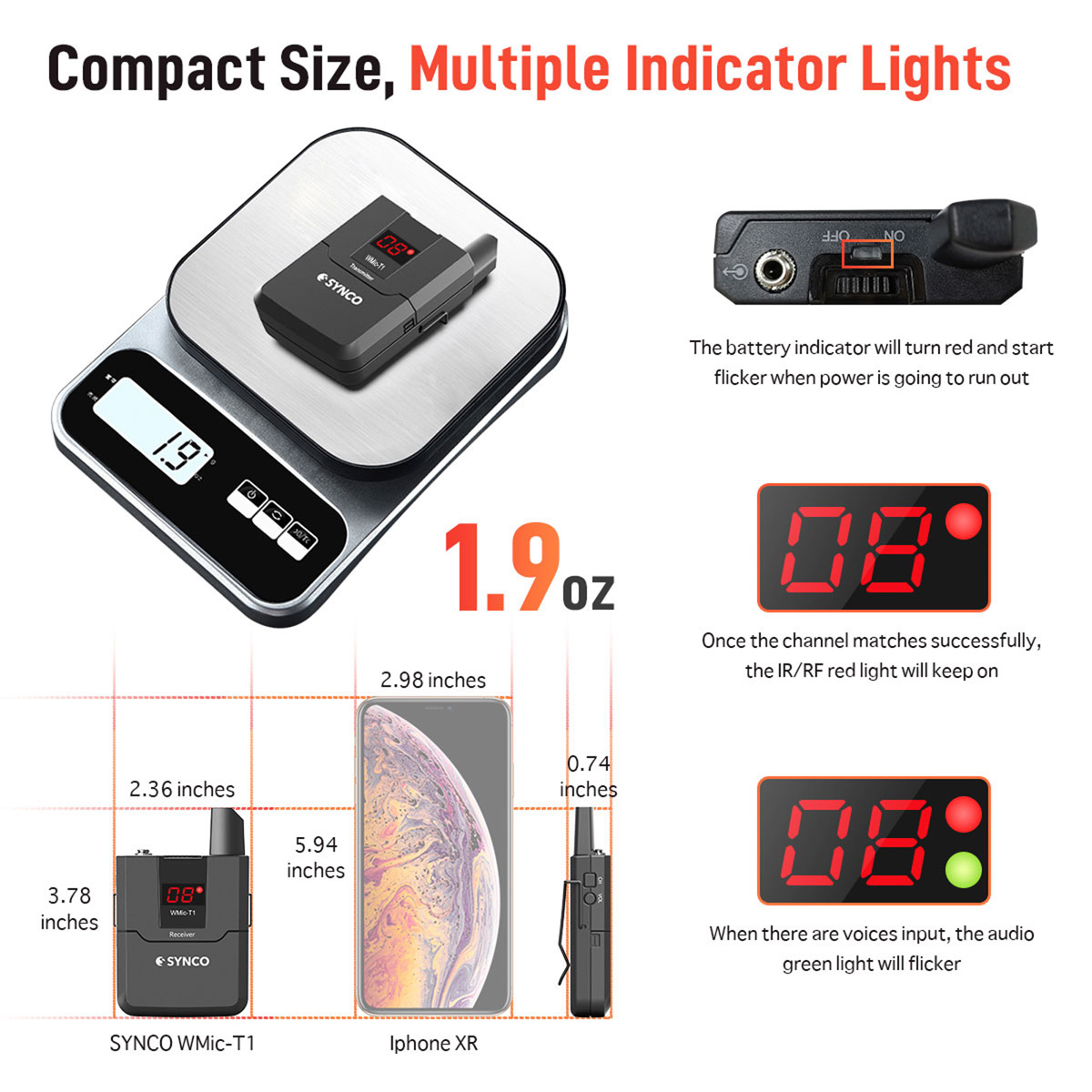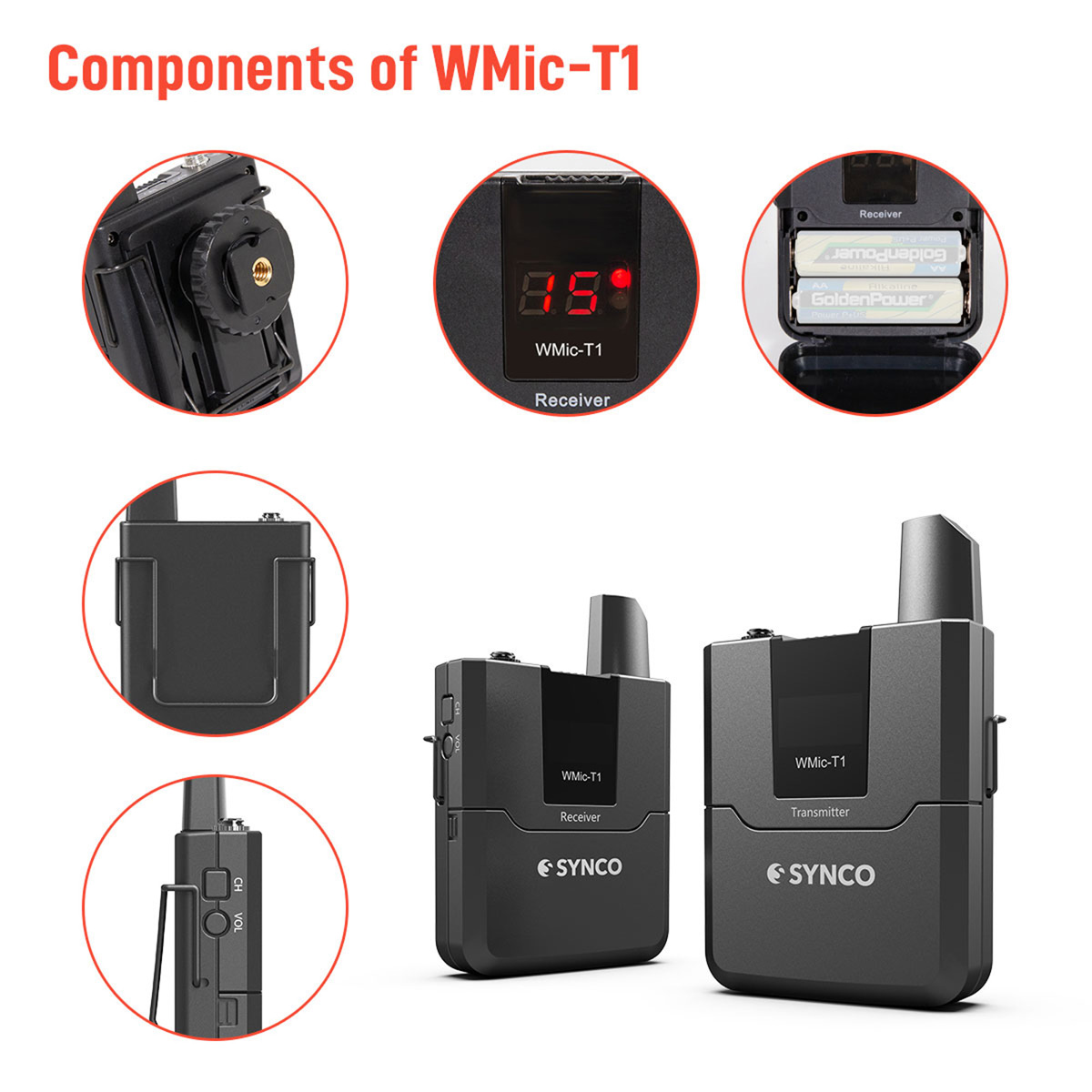 Synco Audio WMic-T1 Features
50m Working Range
Battery Warning Light
Real-time Audio Monitor
70dB of SNR
Compatible with Multiple Devices
Powered by 2x AA Batteries
Compact & Lightweight
Synco Audio WMic-T1 16 Product Support