SEETEC SDI-124
SEETEC SDI-124 3G/ HD/ SD-SDI Distribution 1X4 SDI-124
Find other Studio Monitor here
Introduction
● Broadcast Quality SDI Signals Distribution
● High Definition, No Distortion, No Delay
● Attractive Portable Design
● Metal Frame, Stability and Reliability
Input
Output
SEETEC SDI-124 1×4 3G/HD/SD-SDI distribution is an equipment which convert 1 SDI video signal data to 4 SDI video signal. In transmission process, it no signal loss, no delay , high-definition image on each of SDI display's equipment.
SEETEC SDI-124 completely supports kinds of format (NTSC, PAL format), achieves perfect 1080p@60Hz high-definition output. In professional engineering systems, it always need multiple digital display terminal displaying one kind of SDI signal source's image, SDI-124 SDI distribution is designed for meet those requirement.
SEETEC SDI-124 widely used in monitoring, broadcast station, TV media, video conference, teaching by electronic, wired network field etc.
SDI Distribution 1 To 4
Support 1080p High Definition
Easy Control No Need Set Up

SDI Distribution 1 To 4
Input: 1 x SDI
Output: 4 X SDI
Use Anywhere Pocket Size Broadcast Quality SDI Distribution!
SEETEC mini SDI Distribution is so small you can use them anywhere! Whether you're carrying one in your laptop bag or in your outside broadcast van and road cases, they're professional, broadcast quality SDI Distribution that can be easily hidden so the audience never sees them. They're perfect for use on set in broadcast news, at live events that have screens and cameras all around, or even in episodic television shows feeding big screen televisions that are part of the set!
Enjoy Perfect Visual Experience
High-performance digital chip, 1080P HD resolution, perfect show, make sure that the screen-definition picture quality without distortion.
Full Size Connections Works with the cables you already have!
Even though they're incredibly small, SEETEC SDI distribution feature full size 3G-SDI connections! The SDI connections are multi-rate, making them compatible with SD-SDI, HD-SDI and 3G-SDI equipment. SDI-124 SDI distribution also includes an SDI input loop through connection and four 3G-SDI outputs, so you can connect it to multiple devices such as switchers, routers, monitors and more!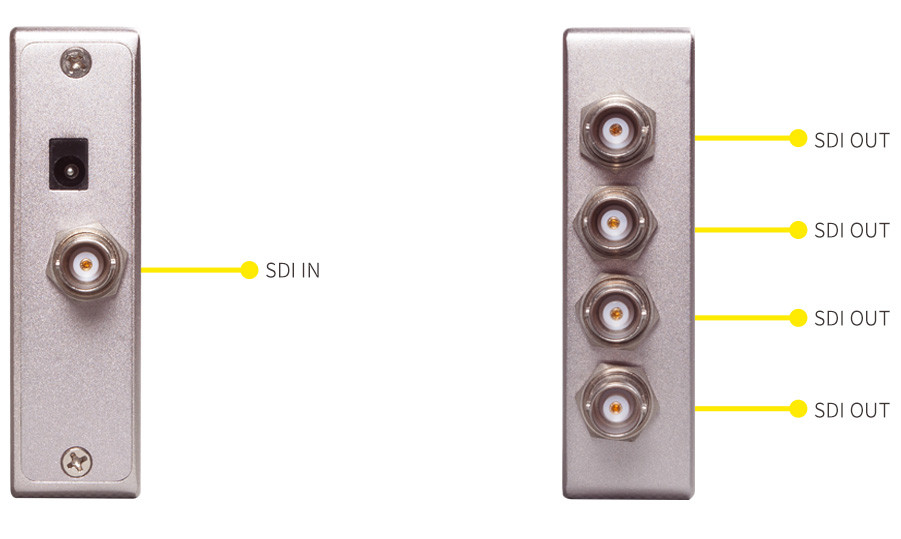 Simple, Compact and Rugged Built for any environment!
SEETEC SDI distribution are designed to be used anywhere, machined out of a solid block of aircraft grade aluminum! You can put them in equipment racks in the studio, on news trucks, or use them outside for live sports and other events.
Application